From left: Jeff Todd, Director of Communications for GIV Bahamas Inc., Roselyn Horton, Deputy High Commissioner of Canada, His Excellency Mr. Alvin Smith, High Commissioner of Canada, Anabel Bane and Peter Nicholson, President of GIV Bahamas Inc.
'Consider returning home'
The Bahamas High Commission of Canada and Peter Nicholson, the President of GIV Bahamas Inc., co-host more than 60 Bahamians and Canadian investors in Ottawa at special homecoming event
More than a decade ago, Keerhan Mullings traded the warm tropical breeze of Grand Bahama for the chilly, fierce winds of Thunder Bay, Canada.
One of his first memories was the electrical plugs in the parking lot. It took him a moment to realize that, in this northern Ontario city, it gets so cold that residents need to plug-in their cars so the motors won't freeze.
Even so, Mullings did not dwell on the weather. Instead, he was focused on his dreams of becoming a civil engineer and project manager.
That dream came full circle earlier this month, when Mullings, now 34, attended a special gathering in Ottawa, co-hosted by The Bahamas High Commission of Canada and long-time Exuma investor Peter Nicholson. While the evening offered many of the familiar tastes and sounds of The Bahamas, there was something new about the event's message to Bahamians: come back home.
"When I was first invited I thought it would be similar to other Bahamas events I've attended before," Mullings said, who arrived in Ottawa from Edmonton, Alberta, just three months ago. "What I got from it was a lot more, especially in my professional background, with me looking to bring my skills back home. I have been trying to find a way to do that for many years, while I am still young. So it was enlightening opportunity."
Over the last 10 years, Mullings had the opportunity to earn his engineering degree and work for major construction companies in multiple Canadian cities. He also met his wife, a pediatric dentist, and they welcomed their first child, a daughter, about one year ago.
From left: Greg Hiebert, an investor in Exuma, Keerhan Mullings, a civil engineer from Grand Bahama, Michael Beach, an architect and Peter Nicholson, President of GIV Bahamas Inc. Mullings, who is looking for new opportunities back home, believes more Bahamians should consider an experience abroad to build their professional resume. 
But while his connection with Canada runs deep, The Bahamas remains close to his heart.
His Excellency Mr. Alvin Smith, the Bahamas High Commissioner for Canada, joined forces with Nicholson on March 3 to encourage Bahamians like Mullings apply their skills and experience back home. Mingling among the Bahamians was also a sprinkling of current and potential investors in Exuma and The Bahamas.
"The Bahamas and Canada have shared a very special relationship that dates back more than 100 years," said High Commissioner Alvin Smith.  "It was truly remarkable to see so many Bahamians and Canadians come together in friendship.  In The Bahamas, we have so many opportunities to grow the economy.  I think this event is very symbolic on how we can come together to meet this potential."
He continued: "Canadians have been integral in the growth and development of our tourist industry through hotel ownership, large number of Canadian tourists and the expanding number of Canadian second home owners. Now is a great time to invest in The Bahamas.  Our Government, cognizant of the challenges and many complaints made by the difficulty of doing business in The Bahamas, is addressing the concerns of the investors and the potential investors."
High Commissioner referred to the 15th Annual International Business and Finance Summit held in Nassau on Thursday, March 1st where the Minister of Financial Services, Trade, Industry and Immigration, Hon. Brent Symonette, shared with the attendees the steps government has taken and continue to review, revise, amend and create laws that make doing business in The Bahamas for Bahamians and International persons easier.
It was a message echoed by the High Commissioner during this official speech at the Ottawa event last week.
In addition to plenty of Bahamian food, drink and music, the more than 60 attendees learned about employment and investment opportunities in The Bahamas, and in particular Exuma, where Nicholson has been investing for over 12 years.
Nicholson, the President of GIV Bahamas Inc., is the largest owner at Grand Isle Resort, a luxurious community on Emerald Bay in Great Exuma. The company is also comprised of other hospitality, real estate and marketing interests in Exuma. One of the company's biggest successes has been the marketing campaign of the swimming pigs, which has since exploded to become a global phenomenon and significant economic driver for the island.
In his remarks, Nicholson told the story of his first Bahamian business partner, Tyrone Munroe, who had lived in Ottawa for decades after leaving his home of Little Farmer's Cay in Exuma. The two entrepreneurs joined forces over 12 years ago, after Tyrone decided to go back home.
"Tyrone could have very well been a young man in this room today," he told the crowd.
"We want to encourage the Bahamian diaspora to consider returning home. Exuma is growing. We have jobs to fill and businesses to create. We want to start a movement of reverse immigration, where Bahamians can rediscover the beauty and opportunities of home."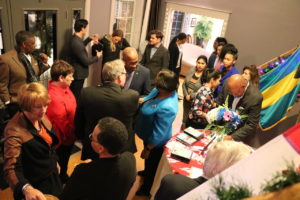 Attendees begin to arrive at the Nicholson family home. The intimate event was attended by more than 60 people, including Bahamians living in the Ottawa area and Exuma investors.
Nicholson added that GIV Bahamas Inc. is looking to host similar events with the Bahamas High Commission of Canada in other Canadians cities, such as Toronto and Halifax, and even perhaps take the message south of the border into the United States.
For Mulling's part, he feels that the experience he gained in Canada will pay dividends if he returns to The Bahamas. He encourages other Bahamians to consider a similar path.
"I think it is the best thing to do," he said.  "It opens up your mind. It opens up your bubble and allows you to look inside that bubble. This insight can go across every professional field. It allows you to be better equipped to solve problems and excel in the workplace."