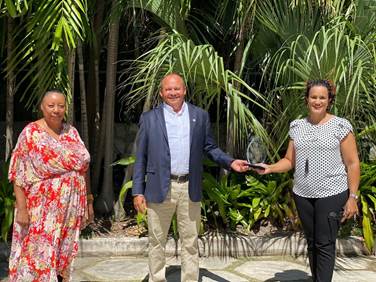 BREA Honours Mario Carey with 2nd Annual Good Neighbour Award for 'Pasta Fridays' Feeding the Hungry during Height of the Pandemic
Real estate agents and brokers are often recognized for their outstanding sales and the number of deals closed. This time, The Bahamas Real Estate Association (BREA), chose to recognize one of its most successful brokers and businessmen, Mario Carey, with its second "Good Neighbour Award" for his significant contribution helping to organize a feeding program dubbed "Pasta Fridays" in 2020, which benefitted thousands.
Carey, together with businessman, Paolo Garzaroli, whose family owns and operates Graycliff, the world-famous 5-star dining establishment, organized the feeding program which transformed the restaurant weekly into a feeding centre in a densely populated part of town. Approximately 40,000 meals were served over the six-week period which were all cooked and served by Graycliff's staff and a host of volunteers, including Better Homes and Gardens agents and staff who dedicated their Fridays to feeding the hungry. The program commitment was so strong that the real estate office was closed on Fridays for the period it ran to allow everyone an opportunity to participate either in the master chef's kitchen converted for mass feeding or in running boxed hot lunches back and forth to cars and vans.
The program, funded largely by private partners and local businesses, helped ease the pressing problem of hunger during the height of the pandemic when unemployment approached 50%.
Says Carey, "I saw the struggle and wanted to do something, anything to help. So many people had lost their jobs and were hurting, and we were blessed by their gratitude."
BREA President Christine Wallace-Whitfield adopted the idea of the award from the National Association of Realtors (USA) to annually honour local members who sacrifice time, money and resources to make a difference in their communities. BREA presented its first Good Neighbour Award in 2020 to Ashley Brown, a broker with Damianos Sotheby's who answered the desperate need for housing after Hurricane Dorian by creating a group that used every resource — social media, phone calls, public appeals — to locate secure homes and housing in New Providence for displaced families from Abaco and Grand Bahama.
"We plan to recognize outstanding BREA members every year who demonstrate a true blend of compassion and professionalism to help improve the lives of others in our community," said Wallace-Whitfield.