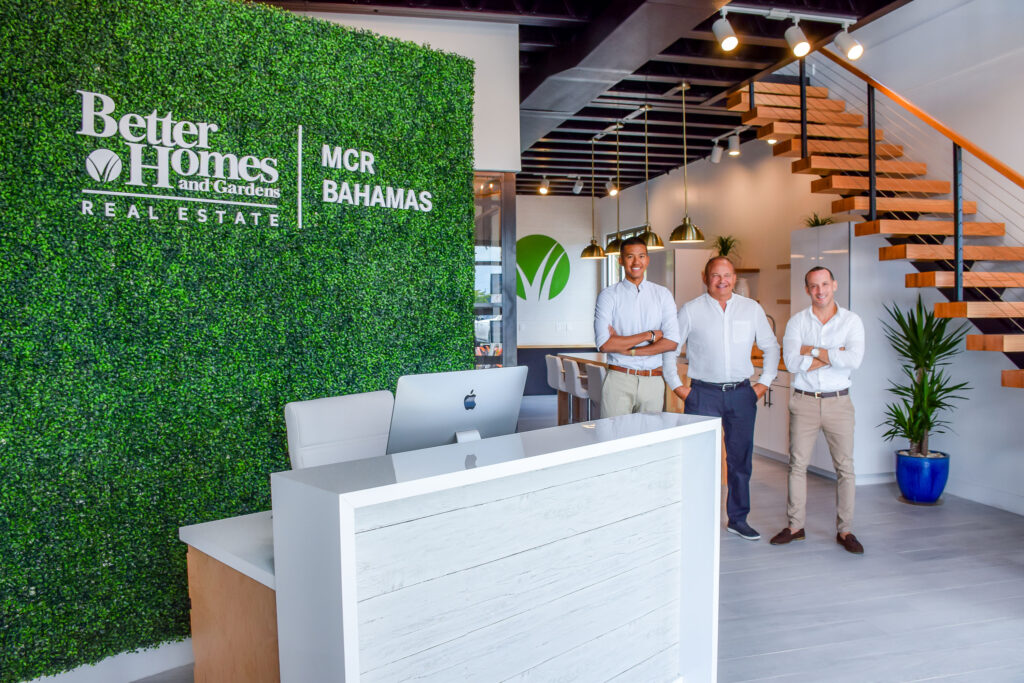 Better Homes and Gardens Real MCR Bahamas announces the relocation of their office from their West Bay Street location to the One West Plaza, Windsor Field Road. Pictured (l-r): Partner Better Homes and Gardens MCR Bahamas Timothy Smith; Founder Better Homes and Gardens MCR Bahamas Mario Carey; Managing Partner Better Homes and Gardens MCR Bahamas Tim Rodland.
Better Homes and Gardens Real Estate Brings Home to Office in New Location, 'Kitchen' Becomes Heart of High-end Deal Talks 
After a year of taking the office to home due to Covid-19 related restrictions, there is one real estate company that decided to bring the home to the office in its new office space. Better Homes and Gardens Real Estate MCR Bahamas, a green, earthy brand that is environmentally conscious decided to merge their brand with modern elegance to demonstrate who they are as a company. The company's affiliation with the Better Homes and Gardens Magazine inspired them to create a magazine of their own with their new office at One West Plaza, Windsor Field Road, complete with waterfall edge butcher block countertops, a floating wood staircase and conversational seating areas.
"The idea was to design the office around the kitchen, that would be open and welcoming. In the home, a lot of conversations happen around the kitchen, so we wanted to bring that feel into this office, but also if we needed a more formal place to meet, we have spaces for that as well", says Managing Partner, Tim Rodland. "We wanted to change the way people think about real estate but also create a fun and enjoyable space for our clients, staff and agents."
Relocating to never before occupied space gave Rodland and team an opportunity to start from scratch.
"Tim Rodland told me he had an idea and we ran with it, it turned out even better than I imagined, which is ironic because 'Expect Better' is our motto so I should have expected the very best. It's a great space, the agents love it, support staff, clients, everyone is eager to come into the office and none eager to leave" said company founder Mario Carey.
The upstairs mezzanine houses agents' offices and a comfortable conversational area with neutral tones on upholstered chairs. Downstairs, tall custom-built white cabinets reminiscent of a kitchen setting are separated by counters and shelving hinting at a place to gather socially, but in this case, it is more likely that contracts are being signed. A grass wall serves as a backdrop for the main logo.
"We wanted to demonstrate who we are as a brand, and this office allowed us to do just that," says Partner, Timothy Smith. "The natural wood tones, green palm trees, living green walls, the flooring, it's all meant to show what Better Homes and Gardens is about."
"Our brand, mixed with a group of trusted agents who hold themselves to a very high level of integrity, allows us to build the relationships that we so cherish within the community. We focus on People full stop!" says Smith. "Being a part of an internationally recognized brand puts the company at a strategic advantage with top-tier marketing locally and internationally, giving us access to a large database of brand loyal clients throughout the Better Homes and Gardens network. We lead by example, always thinking ahead, and couldn't be more proud of what we have created."
The firm relocated from its former location on West Bay Street in July.
For More Information Visit: