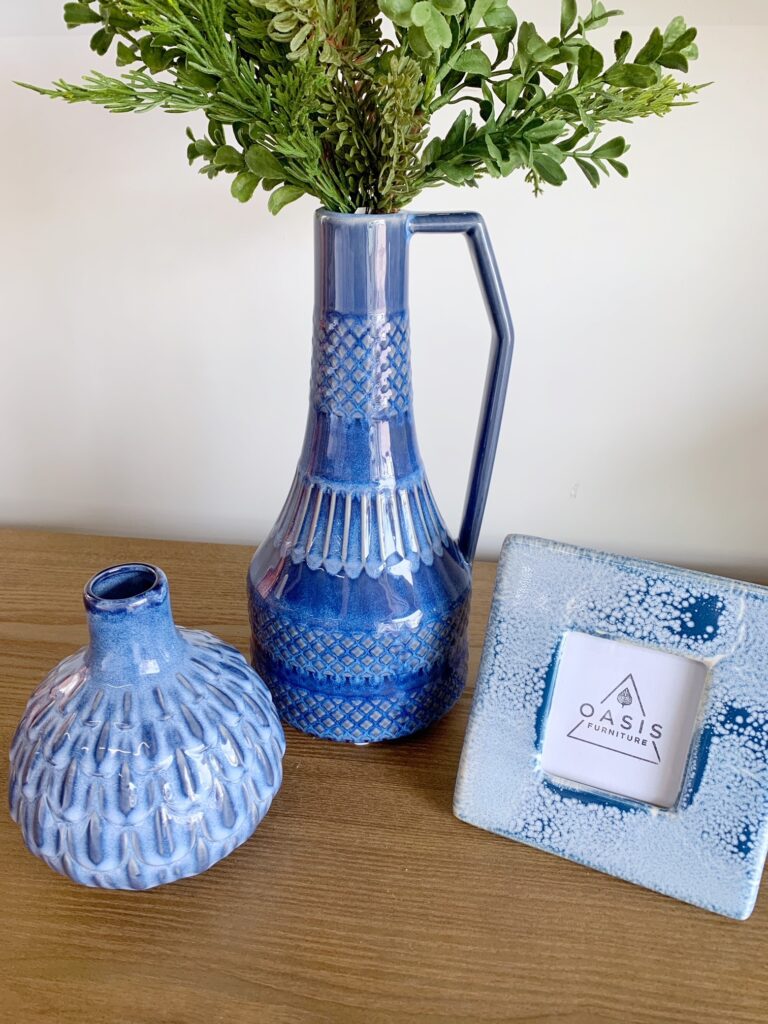 Could blue and green be the new gray and neutral?
Oasis entrepreneur with an eye for design reveals what's hot, what's not, what's in, what's out this season
Just when you thought you'd finally gotten the hang of everything going neutral comes news – colour is back in a big way, especially for splashes and special places.
So says the entrepreneur who founded Oasis, the trendy furniture, home décor and gift store with a prominent presence in Sandyport, West Bay Street.
"Trends in furniture are a lot like trends in fashion, they just take longer to catch on and slower to fade so instead of every year which is what we see in clothing, for instance, they tend to go in five-year waves," says Brooke Pyfrom, who opened Oasis west with indoor furniture in 2018 after a decade of handling custom-covered luxury outdoor goods on East Shirley Street.
"When we opened, furniture fashion was moving from leathers and a cross between French country and a Southern style some called Memphis modern," said Pyfrom. Sofas had deep seats and deeper colours. By 2017, the look and feel were changing, heading toward a new, softer, lighter look replacing rich browns and forest greens with thick, huggable Egyptian cotton pillows taking the place of stripes and plaid.
"The colour gray, once considered dull and uninteresting, came out of nowhere and dominated the furniture fashion floor," she said. "In the kitchen it was white subway tile floor to ceiling. In the living room, gray walls, white sofas, everything light, soft, subtle, touchable with tan or tawny as dark as it got, living plants being the closest thing to colour."
Candles, tall straw baskets, white bisque vases were in. The look, says Pyfrom, was soft and natural, clean. It made use of natural fabrics and textures. There was a freshness about it that made the darker, heavier furniture that came before it feel outdated and online marketplaces were filled with pieces going for a fraction of the price they had been purchased for as décor trended to neutral, light and airy.
"In the coming season, I think what we will see will be that the trend of light and neutral will continue in the basic large pieces, but you will see more colour in accessories. Hues of blues and greens ranging all the way from lime sherbet to deep emerald could become the new gray and neutral. One of the newest colour palates — green, pink and gold – creates a look that feels retro, like something your grandmother had on her dressing room table," said Pyfrom, who studied entrepreneurship and earned a degree in Business before discovering her passion for home décor and traveling the world to source it.
Finding craftsmen to hand build what she wants and get it shipped in time for changing seasons became more challenging during COVID. Pyfrom said she believes others in the industry are experiencing the same and that could help account for more emphasis on accessories. But COVID has had a positive impact on the business as well. With more people studying and working at home, making the space their own is more important than ever.
"Don't panic," she urges. "You don't throw out a dress you love just because a new style of athleisure comes in. Updating your furniture look is easy. Be courageous and whimsical. Toss a few pillows with a mixture of textures on the basic white, soft tan or gray sofa. Think about what goes together in nature. Blue sky, green trees and bring as much greenery into the room as you can. It is good for the soul and spirit. Use mirrors to make a space feel larger and again, choose a frame that reflects the mood you want to create. Looking at a mirror, not just into it, should provide joy."
Pyfrom also suggests splurging on one throw or pillow that becomes the piece your eye goes to. She points to one in the store with elephants and splashes of colour that looks like it was hand-painted.
"It is our most expensive throw pillow, still under $100, but it is the one that everyone loves. We've had people gaze at it, go away and come back and say they had to have it. That's the way you should feel about something that gives you pleasure every time you look at it."
Gray and neutral are not going anywhere immediately so don't rush to repaint all those ash or silver walls or recover that chair you finally got around to reupholstering, but add the new hues of blues and the daring combos that you personally like. Classic white, she said will never go out of style, especially in a tropical climate like The Bahamas.
"In the end, it isn't just about what's hot and what's not, how you furnish the rooms you live in should be however they make you smile just by walking into them and knowing you are going to spend time enjoying your moments in them," says the entrepreneur with an eye for what we sit on, eat at and toss to a companion for fun.