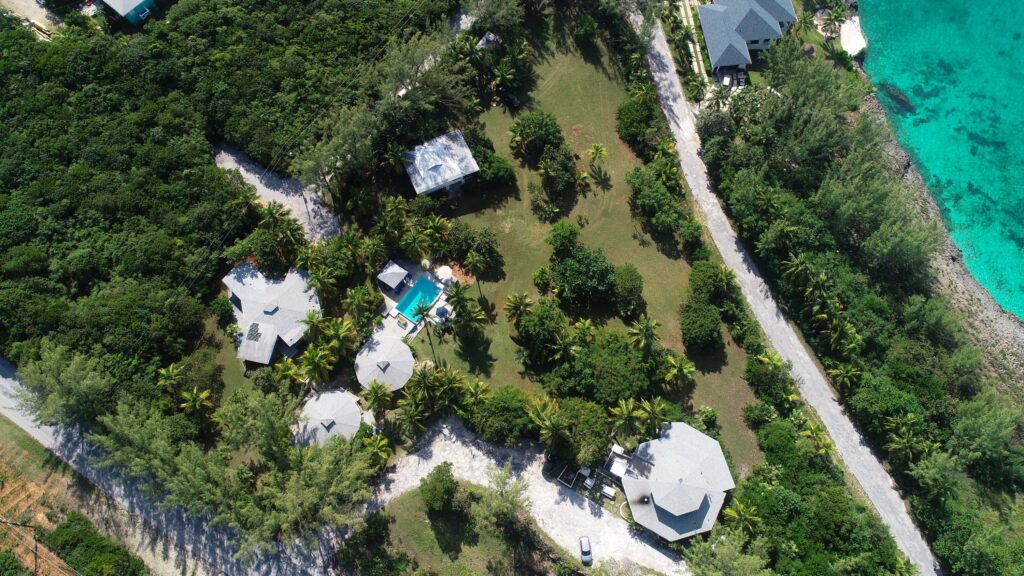 Website goes live December 17 for preview of Sunset Cove & Rainbow Room, the 3.5-acre boutique resort in Eleuthera available for online bidding through Concierge Auctions starting January 21. Concierge is working with local firm Graham Real Estate and the mother-son team Tamina and Lex McKinney.
Sunset Cove, Rainbow Room to Go to Auction in Hot Bahamas Market
With The Bahamas placing second in numbers only to Florida in the rush to relocate, a phenomenon that is driving eager sellers to seek the widest possible marketing database, a small resort in Eleuthera has succeeded in nabbing the world's largest auction firm to handle the sale of its 3.5-acre seaside property.
The historic Rainbow Inn, renamed Sunset Cove and Rainbow Room, announced it has landed Concierge Auctions for the global marketing and online auction that will open for bidding January 21 and run until the 27th.
Concierge is working with the mother-son team of Tamina and Lex McKinney of the local firm Graham Real Estate with headquarters in Nassau, Bahamas.
This is the third Eleuthera property in the Concierge book in less than one year, but the first since Concierge, itself the largest luxury real estate auction marketplace in the world, became part of the world's premier destination for fine art and luxury goods, Sotheby's, and the largest full-service residential real estate services company in the United States, Realogy Holdings Corp.
"We are bringing the two greatest powerhouses, Concierge and Realogy, along with Graham Real Estate to this sale," said Danny Prell, Concierge Director of Business Development. "The current interest in The Bahamas and in Eleuthera, in particular, is phenomenal and this property deserves the widest marketing we can bring. It has everything going for it and most especially its location."
The international auction house that developed online bidding well before the pandemic made it a necessity handled the successful sale of another Eleuthera property, Hut Pointe, just over a month ago.
"We are very excited about Sunset Cove and Rainbow Room not just because the resort and its restaurants are favourites among locals and visitors, nor because the property has already undergone two major renovations, but because it still holds so much promise and potential," said Prell. "With much of the land overlooking the beautiful Caribbean Sea untouched, it is a blank canvas on which a new owner can preserve the historic and add the contemporary."
According to Graham Real Estate's Tamina McKinney, recent upgrades and profitability are expected to drive active bidding.
"We are pleased to work with Concierge for the sale of this property which holds so much potential as a revenue generator on a Family Island," said the veteran broker. "The current owner modernized the restaurant and upgraded both the grounds and accommodations, transforming the Sunset Cove and Rainbow Room into a profitable business and this property will surely fetch an excellent price."
Asking price is $3.68 million.
When the site goes live for viewing on December 17, interested parties will see the boutique resort with panoramic views, waterfront restaurant, pool, seven fully renovated suites, four classic cottages and two-bedroom houses, creating a total of 14 bedrooms and 12 bathrooms spread out in a park-like setting with mature trees and lush landscaping.
The restaurant with its famed wood brick pizza oven seats 85 with a popular terrace setting that comes alive with local bands on special nights large enough for another 52. Built in 1970 with only three sets of owners over half a century, the inn and restaurant rank #1 on TripAdvisor for Eleuthera in the b&b category, an achievement Prell calls "astounding, given the competition."
Prell also cites its proximity to the Governor's Harbour Airport to the south and to the quaint and charming hot spots of Harbour Island and Spanish Wells to the north, an easy drive and short ferry ride away.
"Some of the best dive sites in the world are just off the coastline where you can float along Current Cut between the rock walls of Eleuthera and Current Island," said Prell. "There are nearly endless things to do from exploring the Blue Hole nearby, the waters known as the Devil's Backbone because of the many reefs or the Hatchet Bay Seahorse Pond, reportedly home to the largest collection of seahorses in the world."
Tours and excursions in the area include swimming with the pigs, a search for treasure in pirates' cove at Hatchet Bay and nearby beaches.
"Three and a half acres on an island 110 miles long with 200 miles of coastline and a low-density population of less than 10,000, yet so many treasures, Sunset Cove and Rainbow Room should go to a buyer with a vision for gentle expansion and a true love for the special island of Eleuthera," Prell said. "This property is amazing and should generate a lot of excitement because of its promise. And the buyer could qualify and apply for benefits of the Hotels Encouragement Act to make expansion more affordable through duty exemptions on materials and furnishings."
Prell said the Eleuthera property auction would enjoy exposure to Concierge's comprehensive database reported to be the largest of high-net-worth property connoisseurs on the planet and its reach to major publications. Its listings have been featured in The Wall Street Journal, New York Times, Fortune, CNBC and most international property publications.
Graham Real Estate is also going to feature it prominently on its website and on signage.