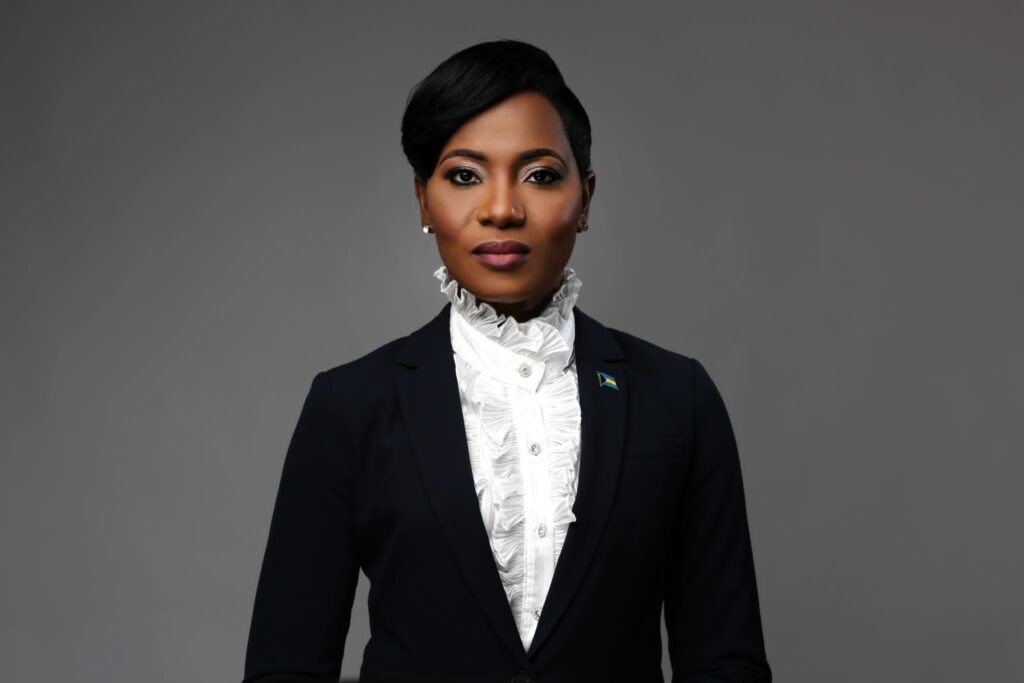 The Hon. Ginger Moxey, MP, Minister for Grand Bahama
Minister Applauds Sygnus Capital Group, Simplified Lending for Alternative $9 Million Funding, Says New Eight Mile Rock Government Complex Will Jumpstart West Grand Bahama Economy
Three months after the government began work to rebuild and restore western Grand Bahama, Minister for Grand Bahama Ginger Moxey. M.P., witnessed the return of heavy equipment and manpower to the long-abandoned administrative complex construction site in Eight Mile Rock this week.
The project was restarted thanks to $9 million in funding arranged through Bahamian firm Simplified Lending and Jamaica-based Sygnus Capital Group, lead arranger.
"The sound of equipment and the sight of men and women working on the job is a signal that this site is back to life," said Minister Moxey. "This is a great way to begin 2022 on Grand Bahama because our people have been through so much since the passing of Hurricane Dorian in September 2019."
Construction of the administrative complex was stalled by the most devastating hurricane in Grand Bahama's history which was followed by fallout from the worst pandemic in more than a century. The complex includes two large buildings that will house all government services when completed — offices and facilities for the courts, Royal Bahamas Police Force, Bahamas Department of Immigration, The Bahamas Customs Department, National Insurance Board, Department of Social Services, Road Traffic Department, Bahamas Passport Office and other government agencies.
The Minister for Grand Bahama called the construction and completion of the administrative complex in Eight Mile Rock a priority of the government.
"The construction, outfitting and opening of this complex will jumpstart the economy of West Grand Bahama and give the people a new beginning," she said. "This project could not have come back to life so quickly had it not been for the two companies that joined forces to provide flexible funding," said Minister Moxey. "I want to commend Simplified Lending, our own Bahamian private financial institution and alternative funding firm, and Jamaica-based Sygnus, one of the Caribbean's leading alternative investment companies, for believing in The Bahamas and especially in this key project in West Grand Bahama."
Based hundreds of miles apart, Sygnus and Simplified Lending share a common business model – providing flexible funding solutions to medium-sized businesses and projects. That includes bridge financing, allowing for funding with flexible payment structures and terms.
"We at Sygnus, are all about long term partnership, relationships and creative financing solutions. As a result, we are delighted to expand our relationship with Simplified Lending and The Bahamas Government by participating in a project that is so critical to the Grand Bahama economy, an island that suffered a double whammy with Hurricane Dorian and COVID-19," said Sygnus CEO Berisford Grey. "From the time we opened our doors in 2016, we wanted to break the mold of traditional financing solutions by using financing structures much more customized and aligned to the needs of a project or a client, and in this case, the solution we were able to provide de-risks the project and allows for local and/or more traditional funding to step in when construction is complete."
Robert Pantry, Founder and CEO of Simplified Lending, noted that partnering with traditional and non-traditional lenders is an especially valuable tool in difficult times, when much-needed access to capital is a challenge.
"Our unique approach to sourcing funding for businesses is targeted to provide the fuel businesses need to grow and in turn help provide jobs and help the economy grow," said Pantry, whose commercial loan brokering division participated in sourcing the funding. "When that circle is in full force, it is a win-win for all with more money flowing through the economy and greater revenue for government, so it can meet its obligations."
The government complex is slated for a third quarter 2022 completion date. Site preparation, infrastructure and construction is expected to generate up to 100 jobs.
ABOUT SIMPLIFIED LENDING
Launched in 2019, the firm specializes in simplifying the process of gaining access to capital for personal, corporate and institutional clients. In 2020, Simplified Lending was one of a handful identified by the Small Business Development Centre to provide short-term business loans and grants to keep businesses afloat after the start of the pandemic. That position, says firm founder and CEO Robert Pantry, opened his eyes to the needs of Grand Bahama and led to his determination to find a funding solution to assist the island's economic recovery wherever he could.
ABOUT SYGNUS
Sygnus is the Caribbean's leading alternative investment management company spanning private credit, real estate and private equity. Sygnus manages Sygnus Credit Investments Limited (SCI) which is listed on the Jamaica Stock Exchange (JSE) and the largest Private Credit Investment company in the English-Speaking Caribbean. SCI is a pioneering private credit investment company, which offers creative debt financing to middle market businesses across the Caribbean. Sygnus Real Estate Finance Limited (SRF) which recently listed on the JSE, provides flexible capital (Debt or Equity) to all classes of real estate assets (commercial, hospitality, industrial or residential). Sygnus Deneb Investments Limited (SDI) invests private equity capital in companies in the form of growth capital, buyouts and turnarounds. Sygnus also offers its clients Investment Banking, Wealth Advisory and Tax Advisory services.