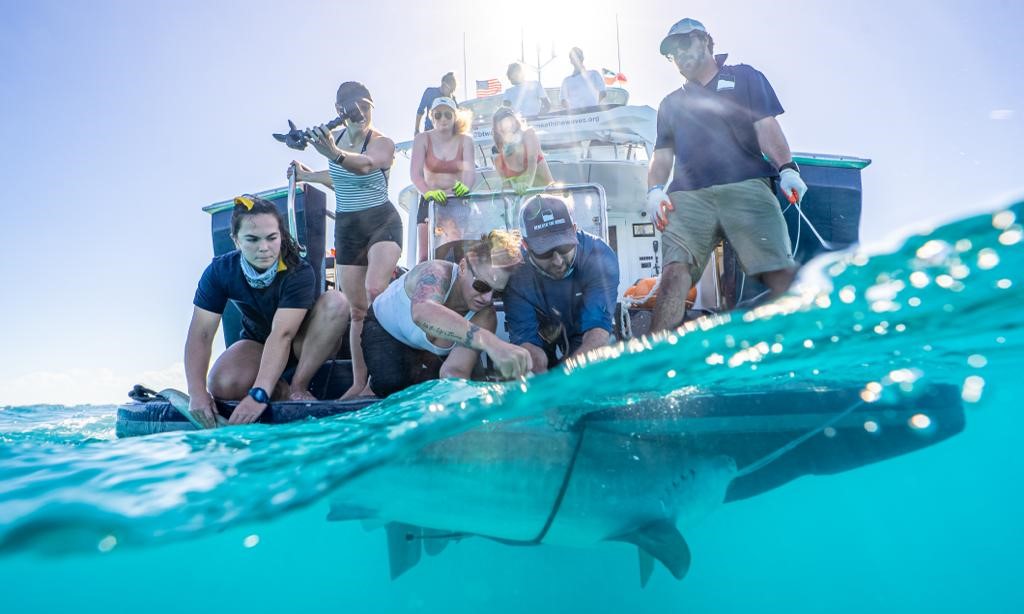 Californian Jennifer Williams flew to Exuma to tag sharks along with researchers and scientists from Beneath the Waves. Shark tagging, out of Grand Isle Resort in Emerald Bay, is a new twist on marine research tourism.
Shark tagging expedition draws Beneath the Waves supporters to Exuma for marine research tourism
Jennifer Williams flew more than 3,000 miles to spend a day with sharks in the Exuma islands of The Bahamas. Robert Saad took time off from his busy job as COO of Canada-based Hillsdale Assets, the largest designer and manufacturer of swimwear for the Caribbean, to do the same.
Williams and Saad are among the small, but growing number of high-powered success stories spending their rare moments off the job tackling another type of demanding task. They are helping with marine research, tagging sharks so scientists can monitor their movement and behavior.
Both were drawn to the warm waters of Exuma in the central Bahamas by a non-profit organization called Beneath the Waves (BTW). The group's chief scientist Dr. Austin Gallagher is a leading name in shark and marine research around the world. He's a regular with National Geographic and the Discovery Channel and he's published more than one hundred peer-reviewed papers. But nowhere has he spent more time in and under the water in the last decade than in The Bahamas, a place he calls his second home.
Gallagher is fascinated by sharks not for any of the reasons that crowds once feared them, but for the role they play in saving humanity by maintaining the lead role as king of the waters and keeping the ecosystem below the surface on an even keel.
"We are losing 100,000 sharks a day to by-catch," he said. "That is why what we are doing here in The Bahamas where sharks have been protected since 2011 is so important. This is one of the few places in the world where the shark population is increasing and especially, the population of the tiger and reef sharks, both of which are critical to maintaining healthy sea grass and blue carbon because of the role they play on and around coral reefs."
Gallagher helped write the legislation that made The Bahamas a world role model in shark preservation. This year, for the first time, he and his team are working from a purpose-rebuilt vessel, the R/V Tigress, designed to make their diving expeditions and research as productive and practical as possible. The boat was made possible by BTW patron and strategic director David Harris, a Tennessean who traded a hugely successful career in business to learn what makes the underwater world and the blue carbon it contains sustainable, believing the system holds the answer to long-time survival and mitigation of climate change.
What people like Harris, Williams and Saad are bringing to The Bahamas is a new kind of tourism with a purpose.
"I don't think of myself as any sort of hero," says Harris. "I am just a man with a curiosity and if I can use that curiosity to help, that makes it even more worthwhile."
For Williams, who runs a wellness centre called IntoMeSea in California and has been cage diving with sharks in Guadalupe, the Exuma shark tagging expedition was unforgettable.
"I've worked with Beneath the Waves before and did another trip with them off Nassau, and I've been diving off Tiger Beach near Bimini, but this tagging expedition in Exuma was a once in a lifetime experience," she said. "You are participating in something that is contributing to the benefit of the planet."
One tag can trace and record more than 200 images of the same shark as it moves through the ocean in a single year, explains Gallagher, who says new equipment and the tagging is revealing shark behavior never before seen and recorded.
For avid diver and tag contributor Williams, 3,000 miles is a short distance to fly for the experience of a lifetime.
"What people don't realize is that a healthy shark population means a healthy ocean population and since 80% of the air we breathe comes from the ocean and sharks are the guardians of the sea, we need to learn all we can about them and do all we can to protect them," she says. "I'll be back."