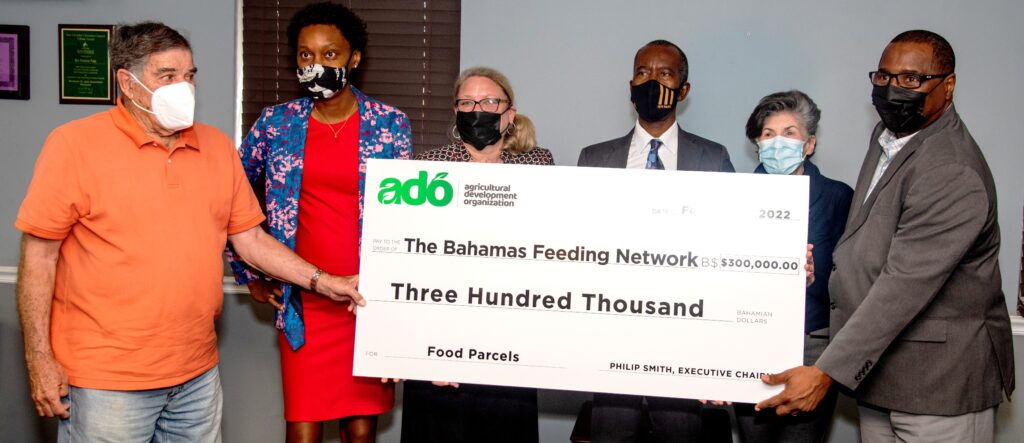 Executives of the newly formed Agricultural Development Organization (ADO) present a $300,000 donation to the Bahamas Feeding Network (BFN) to be used for funding of its food parcel initiative. Pictured l-r: Peter Andrews, ADO committee member; Nekia Brice, ADO general manager; Karen Casey, ADO co-chair; Philip Smith, ADO executive chairman and Rev. Lester Ferguson, Bahamas Feeding Network executive director and Diane Phillips, ADO committee member. (Photo by Donald Knowles for DPA.)
Newly Formed Agricultural Development Organization Gifts $300,000 to Bahamas Feeding Network 
During a press conference to announce the newly formed Agricultural Development Organization (ADO), executives presented a $300,000 donation to the Bahamas Feeding Network (BFN) to be used for funding of its food parcel initiative. On hand at the Assemblies of God church to make the presentation were executives from BFN and ADO.
"It gives me great pleasure to present this donation to my good friend Rev. Lester Ferguson to aid in Bahamas Feeding Network's continued work," said executive chairman and former executive director of BFN, Philip Smith. "As you know, the Bahamas Feeding Network was a huge part of my life for the past 13 years and it was during that time I saw, firsthand, the gap in our being able to feed ourselves. We realize that food sustainability through agriculture won't happen immediately so we have to continue to assist organizations like BFN in their efforts."
The funds were provided to the Agricultural Development Organization as part of a $1.1M donation previously gifted by FTX Digital Markets, the world's second largest cryptocurrency exchange headquartered in The Bahamas, with the intent of it being used to 'directly support individuals and initiatives to raise awareness and provide resources to address food insecurity throughout The Bahamas'.
"The Bahamas Feeding Network is thankful to the Agricultural Development Organization for this significant donation to help us fight hunger," said Rev. Lester Ferguson, executive director, Bahamas Feeding Network. "ADO's contribution today is a wonderful example of the important role that community partners across all sectors can play in helping to address issues of hunger and malnutrition. While our nation's economic activity is beginning to pick up, there are still many families who face unemployment, homelessness and hunger. Many families and many of our network feeding center partners will benefit from this generous gift. On behalf of our Chairman, Felix Stubbs, thank you for making a huge impact today; we look forward to our continued partnership."
With nearly 90 percent of food being imported into the country at an estimated annual price tag of $1.4 billion, food security and sustainability has been in the spotlight with both major governing party administrations standing firmly behind the newly implemented policy which encourages hotels, restaurants and food stores to source 40 percent of all food locally.
On what's next for the Organization whose mission is to make 'self-sustaining food supply a reality for The Bahamas', Smith shared.
"We are currently in the research stages and are getting a better idea of some of the challenges that farmers face. We believe any problems the farmers have can be categorized into one of the 15 committees we've formed. For example, we understand that funding is a major impediment for those in agriculture so the Capital for Farmers Committee was established to create finance solutions. There is approximately $700,000 in funding that came from FTX to assist farmers and we look forward to monitoring the impact the agricultural sector will have on the economy."
Members of the Agricultural Development Organization's Steering Committee include Philip Smith and Co-Chairs Micheal Bayley, President, Royal Caribbean International; Karen Casey, President, Sysco Bahamas; Ryan Salame, CEO, FTX Digital Markets and Vincent Vanderpool-Wallace, Founder, Bedford Baker Group. Special Committees members include Michelle Lodge, Peter Andrews, Buck Ross, Clayton Smith, Shawn Smith, Tyrone Fowler, Dwayne Deveaux, Patricia Minnis, Cleare Hepburn, Pastor Eileen Johnson, Cleola Pinder, Caron Shepherd, Rupert Roberts, Clifton Fernander, Leonardo Lightbourne, Dion Smith, Pastor Dave Burrows, Pastor Pat Paul, Ashley Cooper, Shomekahn Cargill, Olga Munroe, Lillian Quant, Ricardo Richardson, Tanya Rahming, Keisha Ellis, Diane Phillips, Patrice Bullard, Dr. Patricia Johnson, Claire Hepburn, Prince Rahming and Tangela Albury.