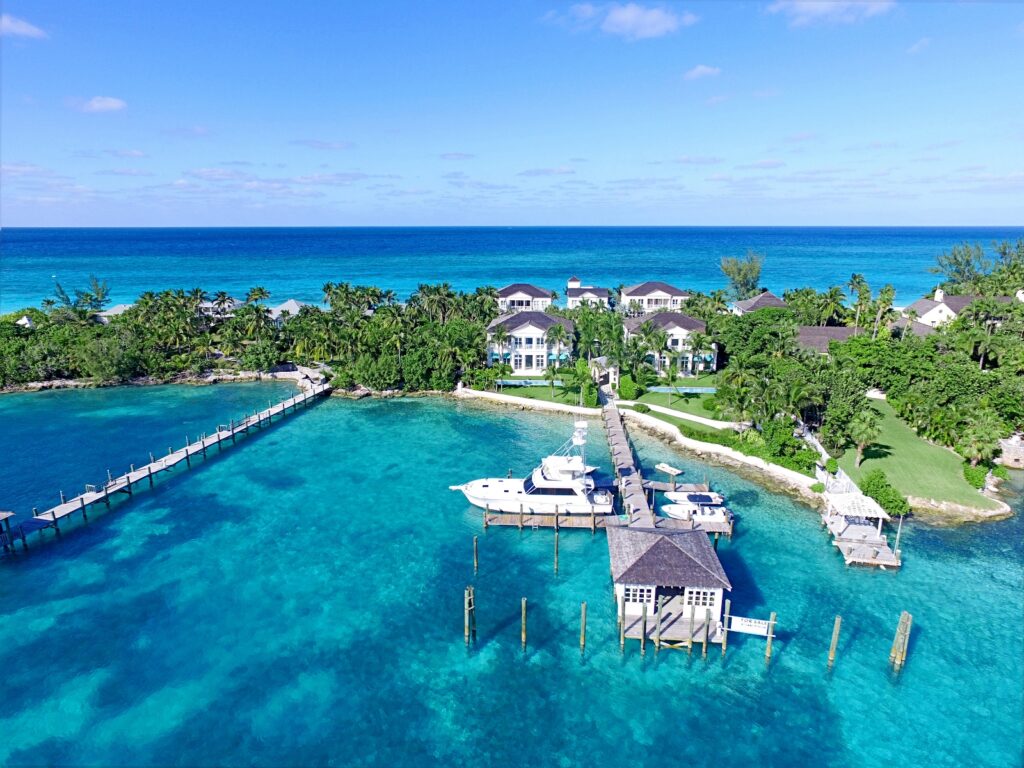 From sea to shining harbour – Beach Villa #3 on Paradise Island, now up for sale, may be the among the last available properties of a fantasy lifestyle on the island with its harbourfront-to-ocean property, pool, private boat service and a deep water dock capable of handling a megayacht up to 150 feet in addition to other vessels.
ERA Dupuch Real Estate Links in Concierge Auctions
Fantasy island-like property on Paradise Island hits market at $12.25 Million
In a land where fantasy properties seem to pop up everywhere, estate agent Adam Duncombe knows he is standing on the real thing, the last fantasy property available today on western Paradise Island.
He has just listed Beach Villa #3, the P.I. property that runs the full width of the island from harbour to ocean and features its own deep water dock capable of handling multiple vessels plus a megayacht up to 150 feet.
"The name Beach Villa #3 is so understated. This is truly a tycoon's dream or a fantasy villa for someone who wants the seclusion of a private island but the comfort of knowing Starbuck's is a healthy walk down the beach from their front door," said Duncombe, an 8-year veteran with ERA Dupuch Real Estate who listed the $12.25 million Paradise Island estate and brought in the marketing prowess of Concierge Auctions for a quick turnaround.
When the online auction opens in February, Duncombe is confident it will draw active bidding. "It's a great buy for the price," he says. "That's not just a reflection of the value of the property. It's a statement about the value of prime waterfront in the luxury real estate market of The Bahamas in 2022. And there is nothing like this offering on the market. It's the last of the dream villas and the only one with all the dockage."
According to Duncombe and others in luxury market sales, Covid-19 accelerated the demand for high-end property in secure, politically stable warm weather climates.
"If people were working remotely or spending less time socializing and more time at home, they wanted the best home environment they could get and for those who could afford it, features and amenities outweighed cost considerations," said Duncombe. "There's luxury and then there is extraordinary that sets a property apart from everything else like Beach Villa #3. It's unlike any other listing on the market, the feel and security of a private island because it is accessible only by boat or foot. Yet a mile's walk down the beach and you can get a Starbuck's or enjoy a day at the Cove, Atlantis."
The villa went live on the websites of ERA Dupuch Real Estate and Concierge last week and will be offered through an online bidding process for pre-qualified bidders between February 22 and 28.
"What makes this offer so amazing is its singular positioning," said Duncombe. "The secluded villa lies in the centre of an artfully landscaped property in a private enclave. It is situated on property that runs from Nassau harbour straight across the width of Paradise Island to the Atlantic Ocean. It includes 90 feet of beachfront and 190 feet of harbour frontage. On one side, you have a private dock that can handle a vessel up to 150 feet in length and on the other side, down 5,000 feet of community beach frontage, you have access to all the amenities of Paradise Island, the golf course, resorts, restaurants, shopping, sports facilities and entertainment. It's all minutes away by private boat complete with captain. Truly, it's like living in a beachfront fantasy."
The four-bedroom, 4 and a half bath, 5,250 square foot villa with oversized windows, private lap pool, magazine-cover worthy kitchen and covered patios created for entertaining is the latest property in The Bahamas to be handled by Concierge in conjunction with a local broker.
"The Bahamas has become one of the world's most desirable destinations, a location of choice for those who can choose anywhere at any price," said Concierge Auctions Business Developer Danny Prell. "For us at Concierge, it is not just the place that makes working with The Bahamas special, it is the knowledgeable and professional people in the real estate industry."
Concierge's database includes more than 775,000 contacts, including 3,500 billionaires, 13,500 private clients, and 160,000 weekly subscribers. The company was recently acquired by Sotheby's auction house and Realogy, the world's largest real estate conglomerate. Its auctions are held online through its New York facility with buyers paying the fee and no interference with the commission of the listing agent in The Bahamas where all standard legal documentation is handled by Bahamian law firms and all recording and other fees paid to government as in any other transaction.